Mental Health Champions
Lots of our partners experience the same challenge when making mental health a day-to-day part of their company culture – they're doing it maybe on their own, with a small team and limited resource.

Our partners are typically in the HR/People teams and sometimes alone might be responsible for the mental health of thousands of employees globally.

Being responsible for opening up the conversation on mental health as a small team or a leader in a business is pretty daunting and over the years we've seen the same problem time and time again.

Often businesses have great wellbeing packages; yoga, meditation, an EAP and more, yet their usage can be low.
Often because one person or a small team is responsible for letting employees know about what's on offer.

It's the same with mental health. One or two people in a 500 person office might be responsible for the company's mental health benefits or just mental health full stop.
It just doesn't add up, especially when a People team often has many other things on their plate.

Mental Health First Aid…Sanctus style
With one of our Partners, Octopus Group, we've created a Sanctus Champions program where we inducted 15 Octopus employees at Sanctus HQ in Shoreditch.
We told them the Sanctus story, shared our experience on mental health and how we encourage people to talk about mental health in the workplace.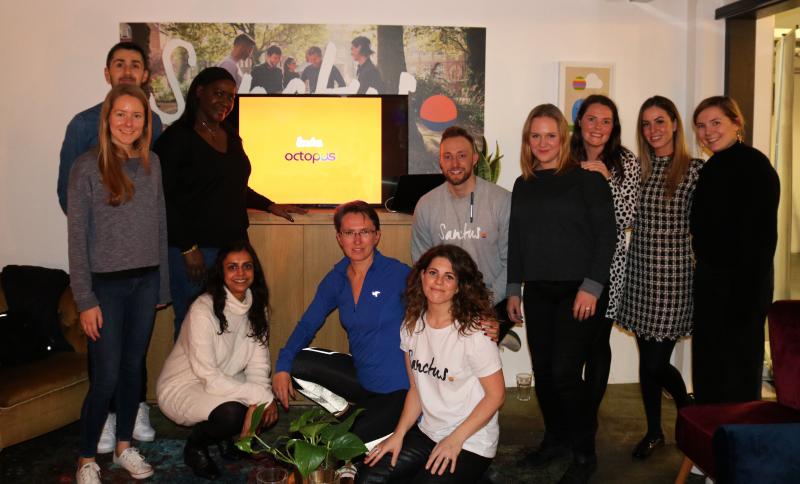 Octopus is a Sanctus Partner, so now rather than two people in the People Team being responsible for opening up the conversation about mental health and telling people about Sanctus Coaching – there are now 17 people doing that.

Not only that, but these Champions are now contributing to a wider mission in mental health and supporting their peers and colleagues across the workplace to talk about their mental health.
We're currently trialling our Champions program with two other Sanctus Partners and we're looking to trial it with businesses we don't already partner with too.
It's not only for businesses who have Sanctus Coaching, but for anyone who's looking for some internal champions to help shout out about mental health.
It's like Mental Health First Aid, but the Sanctus version 🙂
If you fancy chatting about it, drop me a line on james@sanctus.io