Do you have the right managers in the right places?
A survey of businesses spanning multiple industries across five countries including the UK, US, and Singapore, found that while many reported having the right people, these people were not always in the right places – particularly when it comes to managers. 
Promoting people for length of tenure within a business is the norm. But this often means unqualified employees are thrust into leadership positions, all of a sudden responsible for the welfare and growth of others.
This can be particularly damaging in hybrid working world where a special blend of leadership skills are required.
Focused support for team leaders and capability building for managers is crucial to ensure employees feel reassured over the coming months and years. The most common approach is to offer some form of manager training or dedicated 1-2-1 leadership coaching.
From being able to deliver feedback with care to spotting personal development opportunities and handling sensitive, personal conversations. This is important: research from Gallup found managers account for a huge 70% variation in levels of employee engagement.
Meaning your managers are either one of your organisation's strongest and most useful assets, or one of its weakest links.
While ensuring effective training, coaching and the right support is in place, it's just as important to lookout for toxic leaders.
No amount of training can teach someone the skills needed to lead if they have a fundamentally toxic value system. Executives who don't make their teams feel valued – or worse, alienate them – run the risk of losing your most valuable talent.
It's not just about the right kind of training and support, but also about the right kind of people.
Is your workplace environment transactional?
Part of employees feeling reassured will be hearing leaders say the right things.
But words are only half the battle.
The other half is how those leaders make them feel.
In response to the pandemic and a general, unavoidable feeling of mounting uncertainty, many businesses raised salaries to make life easier for employees. While this was overall a well received gesture, whether intentional or not, it reminds employees the relationship you have with them is transactional to a degree.
Acts of kindness alone fail to provide psychological reassurance in the long run. Because the signal employees receive is that they should stay for the money, not the purpose, vision, and mission alignment.
Remember: your best people will always be able to get a better paycheque elsewhere.
So yes, you want to compensate them well, but you also want to make sure you acknowledge their concerns at a deeper level and provide support and meaningful engagement across other areas of their work and life too.
Build leadership learning cohorts
Trust and empathy.
These are the foundations on which to build reassurance among the workforce and, as a byproduct of that, ultimately a solid business. It's possible the managers and leaders you currently have in place haven't had a chance to formally work on the skills needed to foster trust and empathy in the workplace.
Other key qualities that enable leaders to build trust and empathy are curiosity, the ability to handle conflict, and a genuine desire to be the best role model and source of support within the business that they can be.
Traditional leadership training is typically focused on performance, productivity, and problem solving. And these qualities are still vitally important to the way businesses are run. But managers are required to provide a much deeper level of care, support, and leadership now than they may be used to.
Where in conventional management training do you see modules on spotting the early warning signs of burnout and intervening to provide support when team members might be struggling? Developing a skillful and kind approach to difficult conversations? Building connection and empathy at scale while keeping remote teams engaged? Some, perhaps. But not all.
These are relatively new challenges, and the rule book on how to overcome them is still being written. Training or dedicated 1-2-1 leadership coaching is one way to solve for this.
Another is by developing leadership learning cohorts.
Consider creating cross-functional leadership cohorts where managers embark on a growth and development journey together.
How these cohorts form will differ every time, but grouping leaders together for 6-12 months to learn key skills and knowledge together can have a profound impact on their individual development as well as collective cohesion.
Leaders spend time working on real projects aligned to business goals, while pairs of "peer coaches" are assigned to meet with them weekly to deliver feedback on areas for development.
These communities give leaders the opportunity to become aware of their blindspots and learn the empathy and trust needed to engage in feedback and conflict skilfully and compassionately.
"A recurring question we ask within our coaching sessions is 'What support do you have available?' This question is especially pertinent with senior leadership, who tend to isolate themselves, with a false sense of responsibility and invulnerability. In these cases, seeking out a leadership cohort for peer-support is a great way to break the isolation, and develop their skills of trust and empathy in a psychologically safe environment."
Dr. Albert Viljoen, Sanctus Chief Coaching Practice Officer
Communication and clarity
One of the most effective ways to provide reassurance for your people is for leadership to provide regular, detailed, and most importantly truthful communications on the lay of the land.
What's happening in the business? What's the focus over the coming weeks and months? Have any roadblocks come up we need to know about now?
These are some examples of what your employees may want answers on.
One, to provide them with reassurance, but also two, to include them on the business journey with you.
Taking people with you – not just delegating tasks and instruction and being nearby to reprimand or breathe down necks – giving the people under your charge a sense of direction, purpose, and that the work they do day in day out has a real impact.
This is really what employees want. Beyond a hefty pay packet, beyond an easy life. Meaning. Something worth striving for. And the right people in positions of support to inspire that kind of dedication daily.
Communicating with clarity and purpose empowers people managers to lead with confidence and care in the face of new working paradigms. We've developed a bespoke coaching track for managers and people leaders specifically to address this, to help them become the best source of support possible for themselves and their people.
You can find out more about that here.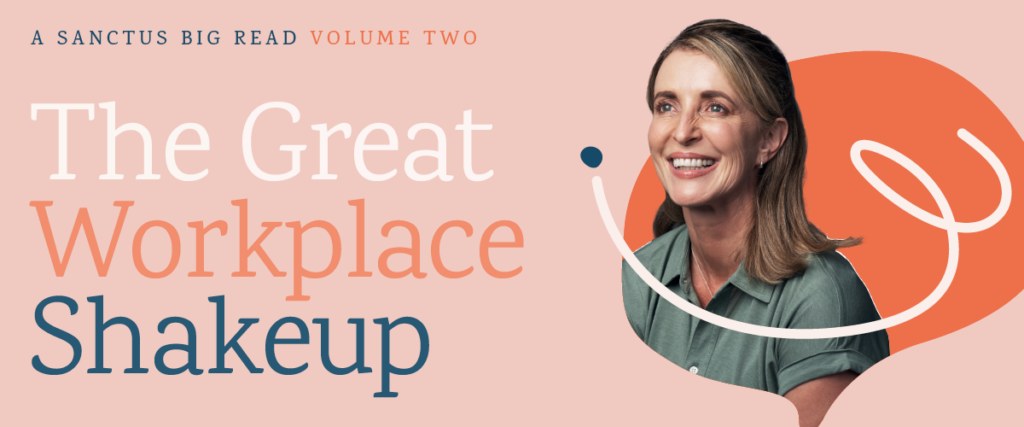 This article is an extract from our most recent Big Read: The Great Workplace Shakeup. It takes a long look at the way the working world's changed in recent years, pulls together a ton of recent research, and provides actual, actionable steps towards redesigning employee experience for the better.