Creating a culture of care
Any company can enlist the services of a mental health provider and use it as evidence they care about their employees.
But if the business is only doing it to tick a box, people are increasingly able to see through the facade. We've become more confident and knowledgeable discussing what we're worth in recent years, what support we need, and indeed what we deserve from our employers. Not only is any frivolous spend likely to be wasted, it can result in damaged trust.
Which is about as easy to repair as a damaged water balloon. You can put as much tape on it as you like, it won't hold forever.
Just like trust and psychological safety can't be bought in personal relationships, they can't be bought in professional ones either.
Building day to day behaviours into your business to promote trust, compassion, and psychological safety is the only way to foster an environment of true compassion and care.
And the rationale for doing so is getting harder and harder to ignore. Not only are businesses based on trust an attractive prospect for talent to join, they are proven to bring out the best in their people and have a positive impact on a number of key metrics, namely:
74% less stress
40% less burnout
50% higher productivity
76% higher engagement
As well as more energy, fewer sick days, increased satisfaction and performance.
We have to prove we're deserving of trust in order for others to offer it to us. The more trustworthy we show ourselves to be, typically the more we are trusted. This applies both inside and outside the workplace.
Leadership is arguably the most active, visible change agent when it comes to culture. Behaviours are often modelled from the top down, so it is incumbent on managers and people leaders to do the work to cultivate caring work environments themselves.
Worryingly, almost 70% of managers are uncomfortable communicating with employees. And a similar percentage of employees would rather talk to a robot than their manager about challenges they face at work.
Working out how to apply trust and care to your day to day operations can be a minefield if you're doing so on your own. Fortunately there are approaches backed by science that are proven to bring out the best in people.
Here are some practical steps you can take to promote trust and psychological safety at work.
Story sharing
Create spaces where team members – especially leaders – can share stories about personal areas of their lives. One exercise is to have team members map out their life's journey, with both the highs and the lows. Displaying honesty and vulnerability in this way helps to create empathy, understanding, and trust.
Honesty breaks
Psychological safety is the belief that any team member can speak honestly without fear of repercussions. It's also the absolute bedrock of high performing teams. Without it, ego, fear, defensiveness, and deceit can take over. One way of avoiding this is by allowing team members to call an "honesty break" on an issue, at which point the group can either have a frank and open discussion about their experience, or split off into smaller groups if they need to work things through in a trusted environment.
Own your mistakes
An important factor in psychological safety is the belief that team members can take risks and, even if they get things wrong, they won't face repercussions (within reason, of course!). It's on leaders and managers to role model this behaviour. Have your senior leaders admit to mistakes. Have them communicate when they're trying something new, and if it doesn't work out – great! Have them communicate that too.
Show your teams you're invested
Have senior leaders, managers, and even the CEO book in time with your employees simply to connect on a personal level. Make time for informal chats, and for leaders to ask employees how they're doing and what challenges they're facing. The greatest gift you can give someone is your time, and employees need to feel like they matter and that their voice is being heard.
Check-ins
Consider starting each team meeting with a quick gauge of how employees are feeling. You could ask the team what their energy levels are on a scale of 1-5. What we do at Sanctus is ask the team to share one word to describe how they're feeling in that moment: "hangry", "excited", "tired", "anxious". Not only does this allow employees to bring an authentic part of themselves to work and frame the meeting so that people can take into consideration how individuals may be feeling that day, but, again, it builds honesty and psychological safety within the business.
Bringing your whole self to work
We know that a highly engaged workforce can improve productivity by 17% and profitability by 21%.
But what does it mean to be engaged? Essentially, engagement is just the level of emotional commitment someone feels to their organisation. Another way of saying that someone is fully present, committed to, and aligned with their organisation.
We don't need a study to tell us that we work better when we feel better.
The times we bring our A game to work usually correlate to us feeling good: physically, emotionally, mentally, relationally. It's much harder to beat your personal best when you lose a loved one, have a week of stress, or go through a messy break up. Just like Olympic athletes tend to their diet, mindset, emotions, and body to win Gold, we all need to tend to these aspects of our lives in order to perform well at work.
A mantra we often use at Sanctus is "bring your whole self to work".
Instead of just focusing on feelings, or challenges at work, or introducing new mindsets, Sanctus Coaches work with people as a whole, taking into account all facets of life in our sessions. And it's important for us that our Coaches work with this holistic view in mind.
Humans are complex creatures. We all have different strengths, challenges, and needs: physical, emotional, cognitive, imaginative.
We recognise there are certain rhythms, limitations, and processes to follow in the pursuit of growth and development.
That just seems natural, right?
But historically, the corporate landscape is anything but natural.
Even though we instinctively know we need rest, fun, connection, health, and purpose to function properly, many organisations still give little or no priority to employee wellbeing. Our corporate language even reflects that: instead of seeing employee wellbeing as essential to productivity, we call wellbeing a "benefit" or an "Employee Assistance Program".
At what point do we consider employee wellbeing essential?
Not only do happy employees bring in more profits, unhappy employees cost UK businesses up to £45 billion per year – a figure which has climbed 16% since 2016.
Something's gotta give
If we place more emphasis on output rather than input, it's inevitable that at some point our employees will break-down, quit, or negatively impact the organisation. It's strange that we don't expect our Olympians to run, swim, and pole vault without a solid sleep cycle, a sports psychologist, healthy nutrition, and the support of millions to achieve success. Yet many companies expect a workforce to function and often overachieve on vending machine snacks, short breaks, and 8, 10, 12 hour workdays.
Turning the ship around
According to an extensive study on company culture at over 200 businesses, a strong company culture can actually drive revenue up by a staggering 682%!
Not only is employee engagement and fulfilment important to minimise losses, but an optimistic, engaged workforce can actually push your organisation's revenue up by 6x.
Or in a nutshell:
Happy worker = happy organisation
Unhappy worker = unhappy organisation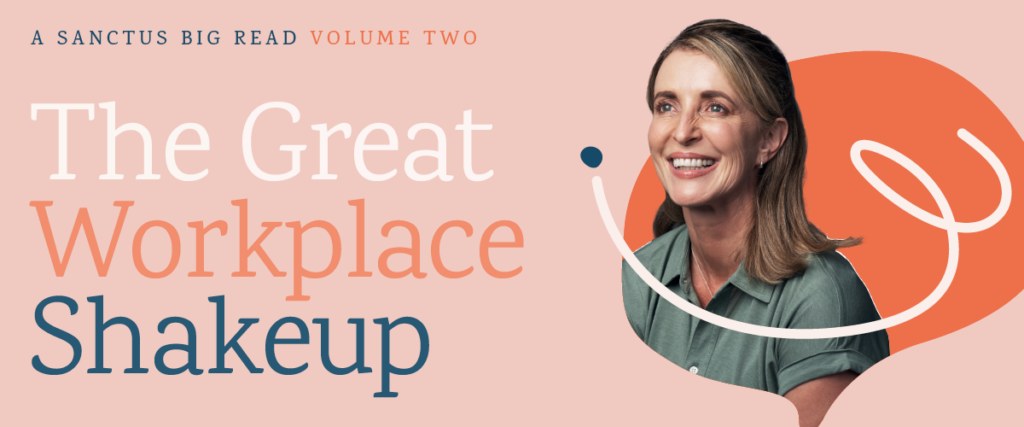 This article is an extract from our most recent Big Read: The Great Workplace Shakeup. It takes a long look at the way the working world's changed in recent years, pulls together a ton of recent research, and provides actual, actionable steps towards redesigning employee experience for the better.