The case for mental health investment
"What's the ROI of mental health?"
A question that I hear a lot.
It's an interesting one because there's rarely this same focus on the ROI of physical health.
Businesses aren't weighing their employees as they come through the door.
They just know that looking after their employees physically is a good thing to do, and is good for business too.
And yet, when it comes to mental health, if clear links between performance, reduced sick days, retention and productivity aren't drawn, a lot of senior leaders aren't interested.
It means that for those leading on mental health within the workplace, often the biggest barrier you come up against is senior leadership buy-in and, in turn, budget sign off.
The impact on the bottom line shouldn't be the only reason businesses invest in mental health, but there's no denying that it's a large part of the conversation whether we want it to be that way or not.
So, in a lot of cases, a solid business case is needed.
Deloitte published a report a couple of weeks ago, Mental health and employers: refreshing the case for investment, which goes a long way in helping businesses to do that.
I've taken the liberty of reading (most of) the mammoth report and distilling the key facts & figures so that you don't have to.
What you need to know
Definitions
Deloitte has included various definitions in their report, and while I won't repeat them all here, they've made an important distinction between mental health, wellbeing and mental wellbeing which I feel is worth sharing:
Mental health
Mental health is defined by the WHO as a state of mental and psychological wellbeing in which every individual realises his or her own potential, and can cope with the normal stresses of life, can work productively and fruitfully, and is able to make a contribution to his or her community. Mental health is determined by a range of socioeconomic, biological and environmental factors.
Wellbeing
Wellbeing is defined by the UK Department of Health as feeling good and functioning well, and comprises each individual's experience of their life and a comparison of life circumstances with social norms and values. Wellbeing can be both subjective and objective.
Mental wellbeing
Mental wellbeing, as defined by Mind, describes a dynamic mental state. An individual with good mental wellbeing is able to:
feel relatively confident in yourself and have positive self-esteem
feel and express a range of emotions
build and maintain good relationships with others
feel engaged with the world in general
live and work productively
cope with the stresses of daily life, including work-related stress
adapt and manage in times of change and uncertainty.
I feel this is important because there's a clear distinction between mental health & wellbeing. Having a wellbeing strategy in place doesn't necessarily mean there's a mental health strategy in place, and that's where I've seen some companies fall a little short in the past.
The problem with mental health in the workplace remains
The conversation around mental health is changing, that much is clear. It's moved away from "let's increase awareness" to "what's the next step?", which is fantastic.

And yet, despite all the good that's been done, there still remains a number of problems with mental health in the workplace:
At any one time, one-sixth of workers will be experiencing a mental health issue
Stress, anxiety and depression account for around half of all working days lost in the UK
Mental health issues are now costing UK employers £45 billion a year, which has risen by 16% since 2017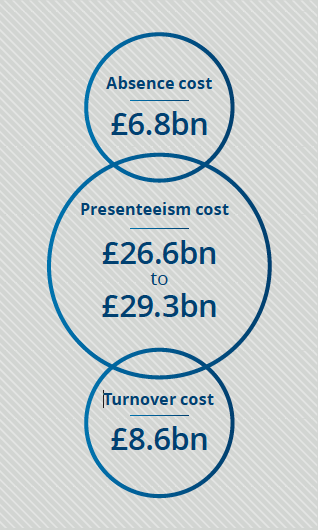 Somewhat compounding the problem is that while there's a general feeling that people are becoming more open, talking still isn't happening at the scale it needs to in the workplace. Neither is people taking the time off when they need it:
Only 49% of employees feel comfortable talking to their line manager about their mental health
81% of employees say they still usually come into the office when struggling with their mental health. This is fourteen times higher than those who would take time off, sitting at a shockingly measly 6%
I'm sure that this doesn't need to be spelled out, but an employee turning up to work even though they're struggling doesn't mean you'll necessarily get good work out of them:
A Vitality survey found that, on average, 31.6 days were lost per employee in 2018 due to presenteeism. This is an increase of 33% since 2016. Clearly, presenteeism is a real, real issue
One of the most useful pieces of data that Deloitte has worked out is the total cost per employee per year for poor mental health, and broken this cost down. More in the screenshot below, but in essence, it's £2277 for employees in London, and around £1500 per employee outside of London.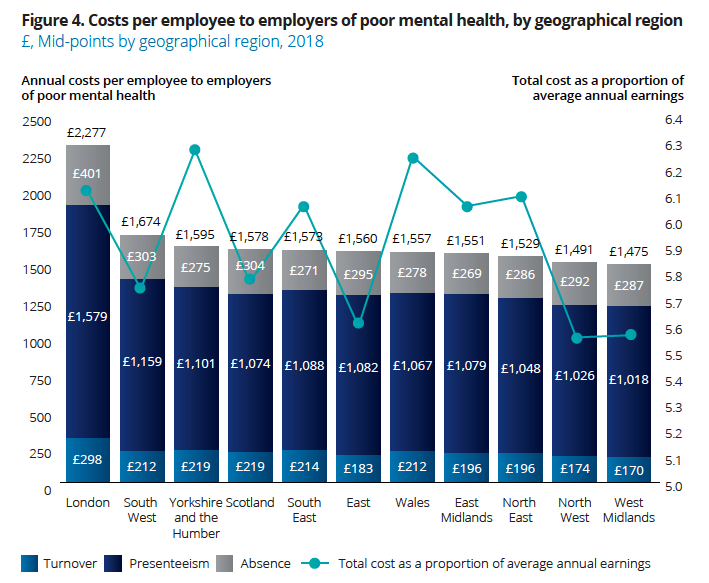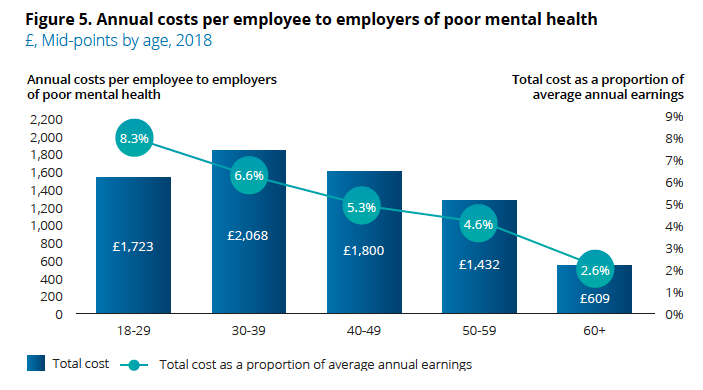 The positives for mental health investment
But, I don't want to be all doom and gloom, as it's not all bad for those businesses who are taking action:
Deloitte has found that for every £1 a business invests in mental health initiatives, they will see an average of £5 returned, which has risen from a £4 return in 2017
The more preventative the support and the more the organisation raises awareness, the bigger the ROI
On their own, reactive measures on average have the lowest ROI
Some businesses that have a wide array of reactive and preventative measures will even see almost £11 returned for every £1 invested. Eleven! That's got to be just about the best investment I've ever heard of!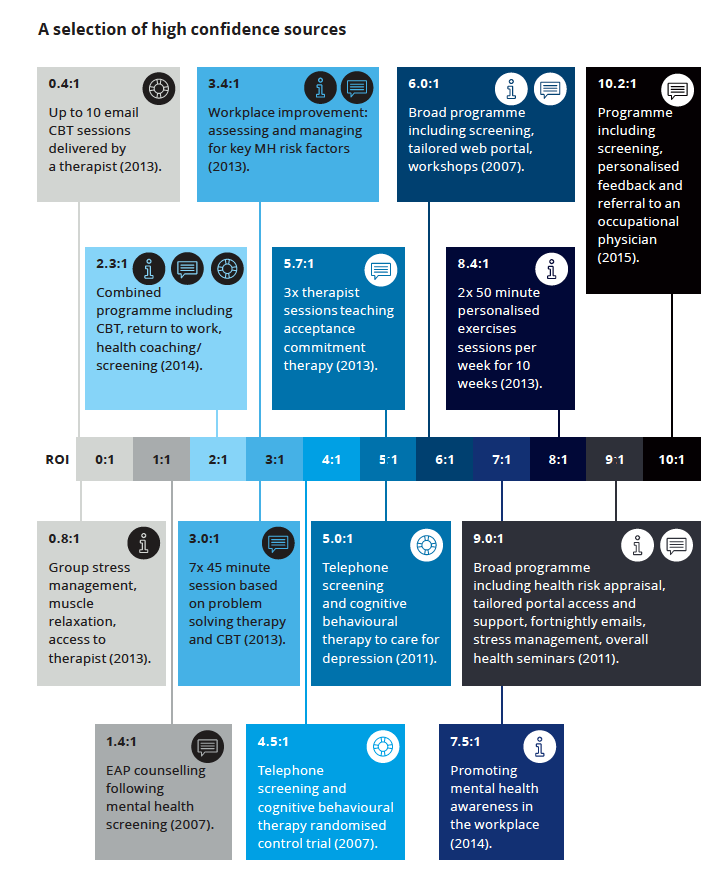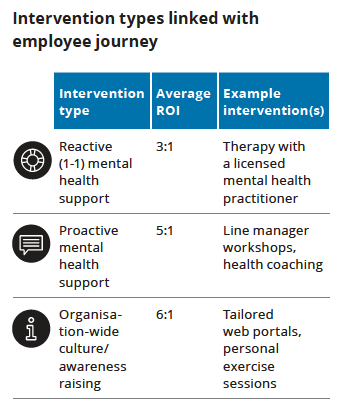 Deloitte has advised taking the numbers above as conservative, meaning the ROI could be even higher.
What's next?
I'm not sure how much more of a compelling case there needs to be for mental health investment.

As well as it just being the right thing to do, there is now solid data to support it.

What I've included above is more of a general overview of the key information, but there are a bunch of other bits in the 60-page report, such as:
Breakdown costs and stats based on industry, city and age
Deep dives into what's changed over the last few years
Advice on what else employers can do
and more
It's definitely worth checking out if you're interested, particularly if you're looking to build a business case.
We also put together a blog that looks at how you can start with building a proactive & preventative mental health strategy to help bring these numbers a little closer to home.