The cost of mental health in the workplace
There are many costs of poor mental health in the workplace. Revenue is the obvious one, but employer brand and talent can also become casualties of workplace strategies that are behind par.
Not to mention the incredibly taxing emotional cost of those that are suffering.
To be clear; mental health doesn't always have to be a cost to a business. If a business is doing it right and investing in their staff and their wellbeing, then mental health can actually be a rather savvy business investment.
The World Health Organisation has even found that work can be good for mental health, so there's plenty of opportunity here.
So what's the cost when things are going wrong?
Revenue
Poor mental health cost UK businesses £42 billion last year, a staggering figure. It's also important to note that this figure has risen by 17% since 2017, which sat at around £35 billion.
Mental health issues are costing businesses an enormous figure, with stress, depression and anxiety alone totalling 12.8 million lost days a year.
If you're struggling to relate to these numbers, this graph below from Deloitte's Mental health and employers; refreshing the case for investment report will help.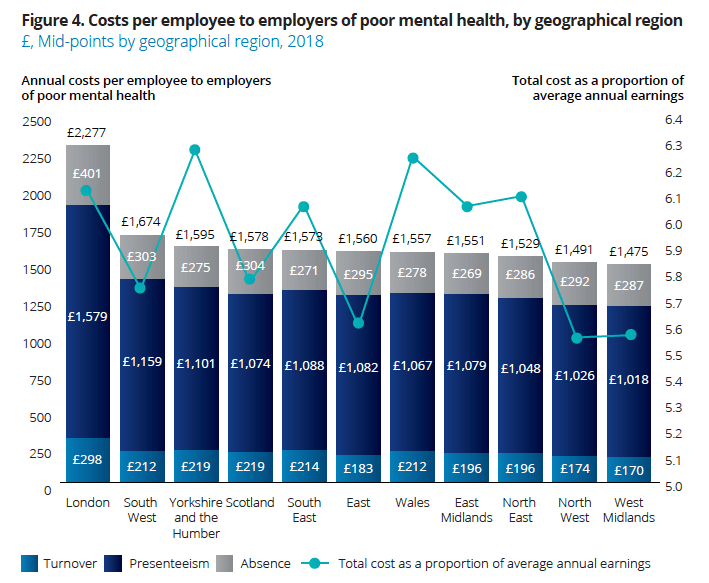 Here you can see the cost per employee per year for poor mental health broken down by region. This is further broken down into turnover, absenteeism and presenteeism.
Simply multiply these figures by the headcount of your business, and you'll see what the cost of mental health in the workplace is for your business.
The cost of turnover and lost talent
We can already see from the above graph that poor mental health is a contributing factor to staff turnover.
In fact, at least one in three Britons have thought about quitting a job because of stress.
If you lose staff to mental health issues, then of course, there is a cost in itself of lost productivity, loss of work etc.
But did you know that it also costs on average £30,000 to replace an employee?
Employer brand
With the invention of things like social media and Glassdoor, businesses are in the spotlight a lot more than in the past.
A business can feel an impact on their brand in an instant, and those that aren't as supportive of their employee's mental health may see this reflected in reviews and scores online.
While things like this are slightly harder to measure in monetary terms, there is an obvious cost here.
It's more than common for prospective candidates to take a look at Glassdoor before deciding to apply to a business, so the potential loss in talent could be huge.
The human cost of poor mental health in the workplace
It goes without saying that there is a huge human cost from poor mental health too. Behind all of the statistics above sit real human beings, and this mustn't be forgotten from any thought process.
Struggling with mental health is an incredibly isolating and challenging experience, and what people need more than ever is support.
Employees spend most of their time in work, whether physically or virtually, and so it is absolutely crucial that they are supported in their work life.
It can't only be once they shut their laptop at night.
If you're not sure what signs to look out for, this guide from Mind, while published in 2011, highlights some of the physical, mental and behavioural signs that an employee may be struggling. These include:
Lateness, leaving early or extended lunches
Working for longer hours
Withdrawal
Uncharacteristic errors
Apparent over-reaction to problems
Lapses in memory
What's next?
Thinking about what the next best step is and how you can take action? Check out this blog post that we put together on creating a proactive mental health strategy.