This is a tough one, and will take a bit of work.
But I promise it's worth it – building a solid business case and getting senior leaders bought into mental health will literally transform the culture and the business.
There's an incredible human, moral element to mental health that we mustn't forget. But for this post I'm going to focus specifically on numbers and stats, and how you can tie that to mental health.
So, what's the ROI of mental health?
The single best study I've seen that draws as close a link as currently possible between mental health and the bottom line is Deloitte's Mental health and employers: refreshing the case for investment.
It's about 60-pages, so I've done you a favour and distilled everything into a key summary below.
The problem with mental health in the workplace remains
The conversation around mental health is changing, that much is clear. It's moved away from "let's increase awareness" to "what's the next step?", which is fantastic.

And yet, despite all the good that's been done, there still remains a number of problems with mental health in the workplace:
At any one time, one-sixth of workers will be experiencing a mental health issue
Stress, anxiety and depression account for around half of all working days lost in the UK
Mental health issues are now costing UK employers £45 billion a year, which has risen by 16% since 2017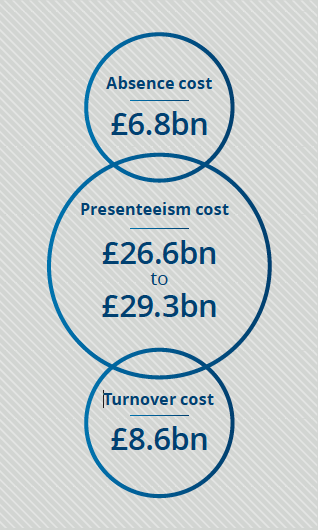 Somewhat compounding the problem is that while there's a general feeling that people are becoming more open, talking still isn't happening at the scale it needs to in the workplace. Neither is people taking the time off when they need it:
Only 49% of employees feel comfortable talking to their line manager about their mental health
81% of employees say they still usually come into the office when struggling with their mental health. This is fourteen times higher than those who would take time off, sitting at a shockingly measly 6%
I'm sure that this doesn't need to be spelled out, but an employee turning up to work even though they're struggling doesn't mean you'll necessarily get good work out of them:
A Vitality survey found that, on average, 31.6 days were lost per employee in 2018 due to presenteeism. This is an increase of 33% since 2016. Clearly, presenteeism is a real, real issue
One of the most useful pieces of data that Deloitte has worked out is the total cost per employee per year for poor mental health, and broken this cost down: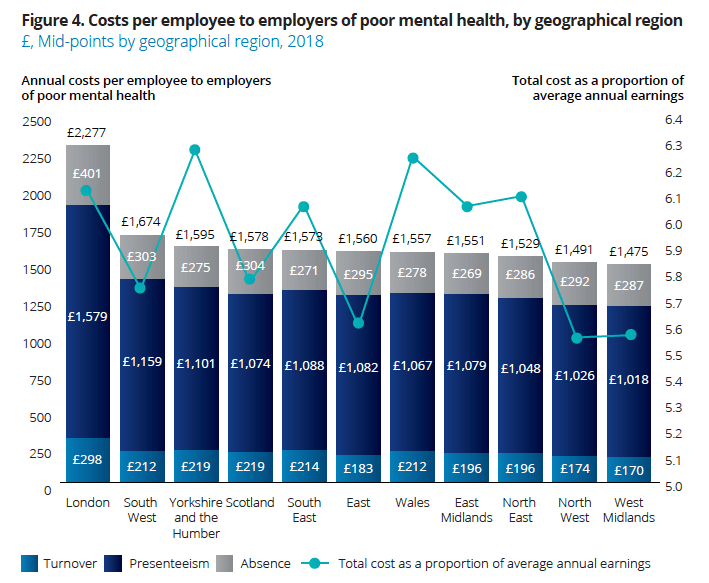 They've also broken this down by age too: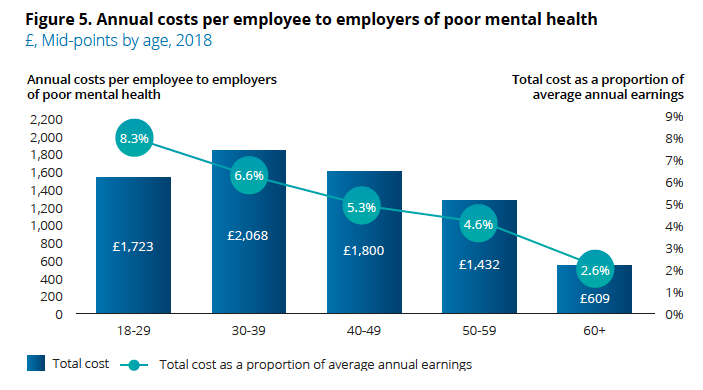 The positives for mental health investment
But, I don't want to be all doom and gloom, as it's not all bad for those businesses who are taking action:
Deloitte has found that for every £1 a business invests in mental health initiatives, they will see an average of £5 returned, which has risen from a £4 return in 2017
The more preventative the support and the more the organisation raises awareness, the bigger the ROI
On their own, reactive measures on average have the lowest ROI
Some businesses that have a wide array of reactive and preventative measures will even see almost £11 returned for every £1 invested. Eleven! That's got to be just about the best investment I've ever heard of!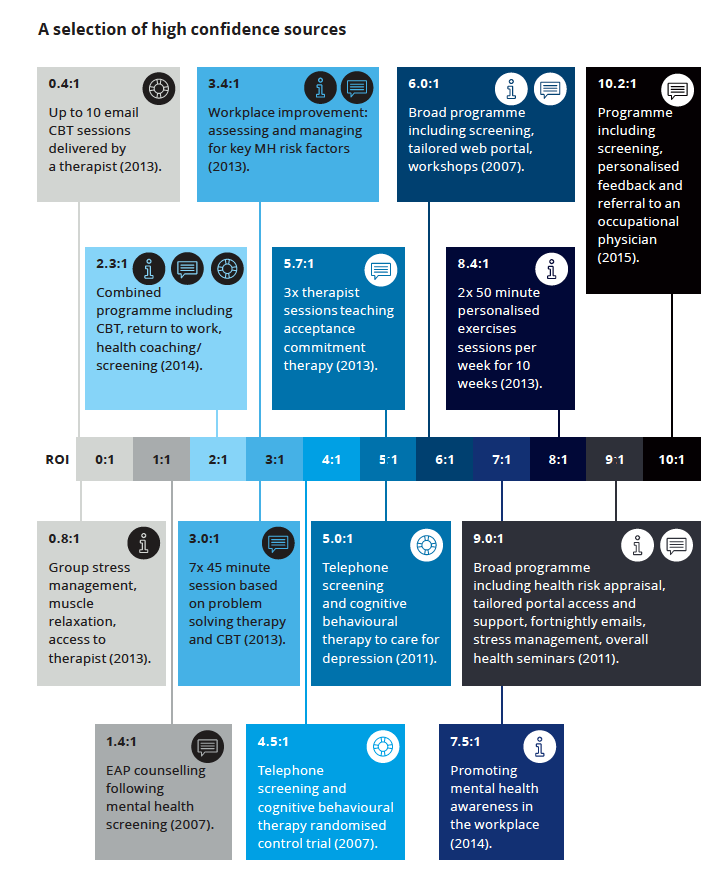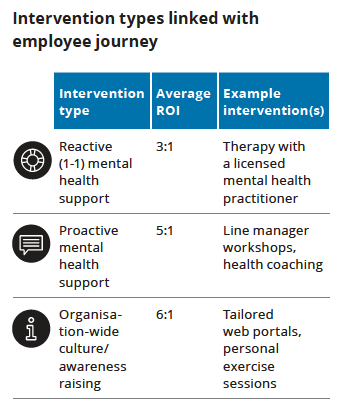 So, how can you use this data?
You've seen the stats, and that's a great start.
But stats can sometimes be hard to relate to, so let's tie them back into your own business and start building a business case.
The cost of poor mental health on your business
Deloitte showed us the cost per year per employee for poor mental health, broken down by region.
You can do the maths to work out the impact this is having on your business.
For example, if you're a 400-person business based in London, then the cost for your organisation of poor mental health is £910,800 per year! (400 x £2277)
Turnover costs
Next, what are your retention rates like? You can already see in Deloitte's graph roughly how much you'll be losing each year in turnover costs because of poor mental health.
But did you also know that it costs, on average, £30,000 to replace an employee?
From these two workings out alone, you can already see the astronomical cost not investing in mental health could be having on your business.
You can also see from this how you can start framing mental health as an investment, not a cost.
Where else can you gather data from?
The above two things are stats that you can work out immediately. But try to make your business case as extensive as possible.
What are people saying in job interviews, exit interviews, 1:1's or Glassdoor about your business and/or it's benefits package?
Do you find it hard to attract talent?
Are people taking a lot of sick days?
Do you have an employee engagement survey that's scoring low?
What's the performance of the business like?
Can you track and collate roughly how many hours per week managers and those in the HR/People team are spending in emotional support / wellbeing conversations? You can then break this down into a % of the week, and how much that's costing in terms of salary.
For example, if you've got a manager who's paid £40K a year spending 10% of their week supporting the mental health of their teams, that's £4K a year.
Add more managers to the mix, plus the cost of decreased performance for those struggling, and you really start to see how easy it is to justify budget for mental health initiatives.
The key thing here is that you want to present as much data as possible to senior leaders. It's part of their role to hold the health and the numbers of the business, so they often read situations in terms of stats and revenue.
Now, if you don't have any stats or numbers for some of these things, don't fret. Firstly, you can build part of your case using the section before.
Secondly, start tracking what you can as soon as possible. If you've got any budget at the moment, then using employee engagement software is a great way to start getting data on your business – companies like Peakon, Culture Amp and Officevibe do this.
If you don't have budget, set up an anonymous survey for free on Typeform with questions you want answers to. For example:
On a scale of 1-10, how do you rate [your company name]'s benefits package? (1 being extremely poor, 10 being great
What do you think we could be doing better or more of?
Have you considered leaving us at any point because of the business culture or lack of support?
How supportive of mental health do you feel senior leadership is?
Whatever you put together, send the survey every 3 months, or at least every 6 months, so that you can start to track data over time. If scores continuously stay low, or start to dip, then you've got a pretty strong internal case there.
You an also try using a free Employee Engagement calculator like this one from OfficeVibe to work out cost and ROI for your specific business.
Getting started
Remember, this isn't something you'll solve overnight, so don't put that pressure on yourself.
The most important thing is that you start – baby steps are better than no steps.
Still looking for more ideas? This podcast that we recorded with several HR rockstars on Getting business leaders to buy into mental health could help 🙂