We like to think we've got a pretty cool origin story.
Our founder, James, needed a way to process his own struggles with his mental health, and to unbottle the way that he'd been feeling.
But, the space that he needed didn't exist.
He didn't feel "ill" enough for therapy, and he didn't even know where to start with trying to explain how he was feeling to his friends and family.
So that unbottling happened, in true modern millennial fashion, in the form of a blog post turned diary entry, titled Mental health in startups.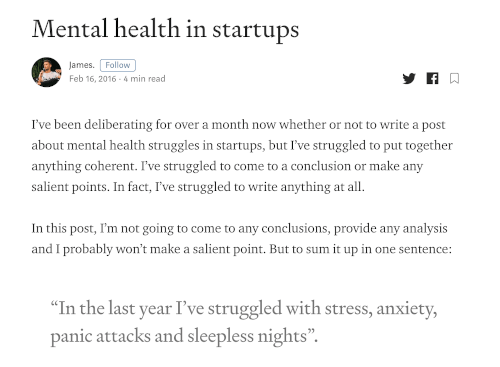 What James didn't realise is that others were looking for a space too.
Within a few days the post had thousands of readers, and he had hundreds of emails sitting in his inbox.
It became clear that people needed somewhere to talk and to connect that didn't yet exist.
There are many avenues of support for those going through a tough time, although these can sometimes be hard to find or difficult to access. But, there's very little in place for those who want to work on themselves positively and proactively. And there's nothing tying these two parts of the spectrum together.
Mental health is currently talked about in a very "us and them" way, with the "1 in 4 who will suffer from a mental health issue" often being alienated from the "3 in 4".
The reality is that 4 in 4 of us have mental health, and it's something that we can all be talking about.
And so Sanctus, meaning "pure" in Latin, became a living, breathing brand on a mission to change the way the world views mental health and to give people the space that they need.
Mental health gyms on the high street
The mission was clear, the "how" a little less so.
James experimented with a bunch of things in the early days, from that first blog post through to a "chatbot" (James' fancy word for what was essentially him sitting on WhatsApp).
Then, two things happened.
James realised that a one-man WhatsApp business isn't exactly the best business idea he's ever had. And, with him not being a mental health professional, it wasn't particularly safe either.
The second thing was that his best mate, George Bettany, joined as co-founder. The two had previously run another startup together, which had burnt them both out and they'd gone through the difficult process of shutting the business down.
They looked at the physical health & fitness industry, and saw how easy it was to talk about it. How much it's part of everyday conversation and social media feeds.
How people proudly wear sports brands on their chest, legs and feet.
Why was the mental health industry the polar opposite?
They decided they wanted to build a brand that not only gave everyone the space to talk, but that also made mental fitness a thing. To create a brand that people were proud to talk about. Proud to wear, even.
The plan was to set up the world's first mental health gyms on the high street.
We'd be able to give every individual a space to talk, learn and grow, whatever is going on for them.
But, as a society, we realised people aren't quite ready for big, shiny mental health gyms sitting next to those Tescos and Starbucks'.
And, we realised that the majority of people that we're trying to reach, spend most of their time at work.
So why not bring a version of the mental health gym to the workplace?
Mental health in the workplace
Which leads us to the present day.
After meeting with several coaches and therapists, James & George began to build out a team of high-quality, human-led Sanctus Coaches to act as "personal trainers for the mind" in the workplace.
By placing these Sanctus Coaches into businesses, we create what we see as a version of the gym in the workplace; giving employees a space to have a mental health & fitness workout.
We now work with over 60 businesses, with offices in both the UK and internationally, all helping us to fulfill our mission of giving people a space to talk and to one day build gyms on the high street.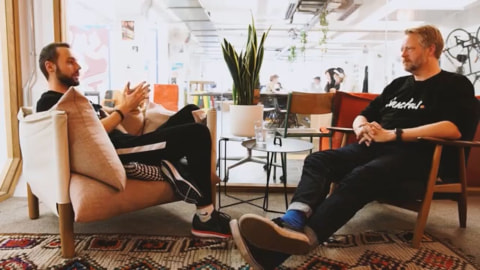 As for the rest of the Sanctus team, we've all had our bumps in the road with our mental health in some way. We've been in difficult workplaces, found ourselves a little lost, and found ourselves at both some of the very worst, and the very best, parts of the mental health spectrum.
We've all felt what happens when we neglect our mental health and don't have the space that we need.
Experiences which left each of us feeling "more needs to be done".
And, on the flip side, we've all seen the benefits of proactively working on our mental health.
So we like to think we know a thing or two about how we can give others the space to be themselves, to talk, and to grow.
As for when the gyms will be on the high street? Watch this space.
Want to know more?
Fill out the form below and one of the team will be in touch to walk you through how it all works.