Mental health in the workplace statistics
While much has been done in recent years around mental health in the workplace, annual reports published each year repeatedly continue to display the apparent lack of serious movement forwards on mental health at work.
Below we've looked at some key mental health in the workplace statistics; both to highlight the problem, but also to show the huge opportunity presented to businesses.
1 in 6 people are struggling with their mental health at work
At any one time, 1 in 6 employees within a workplace will be struggling with their mental health. While that's slightly lower than the 1 in 4 statistic for mental health in adults more generally, it still represents a huge portion of any business' workforce.
The cost to UK employers
The impact that poor mental health has on UK employers is huge, costing between £42 – £45 billion every single year, as found by Deloitte in their 2019 report.
What is perhaps most staggering about that figure is that it has risen by 16% from Deloitte's previous report back in 2017.
It's worrying that the figure is heading in the wrong direction.
Globally, the World Health Organisation has found that depression and anxiety have a huge economic and social impact, costing the global economy around $1 trillion a year in lost productivity.  
What this cost means for individual businesses
The statistics above, while useful in highlighting the global problem, can be hard for individual businesses to relate to. Particularly if they don't deal in figures of billions and trillions!
The previously referenced 2019 Deloitte report has pulled together an incredibly useful statistic that has found the average cost per employee per year of poor mental health.
They have found this to be between £1,475 and £2,277 depending on the UK region in which the employees are located.
Further to this, Deloitte has broken this figure down to show how the cost is split between turnover, presenteeism and, absenteeism.
This allows businesses of any size to start to get an understanding of how poor mental health may be impacting their business.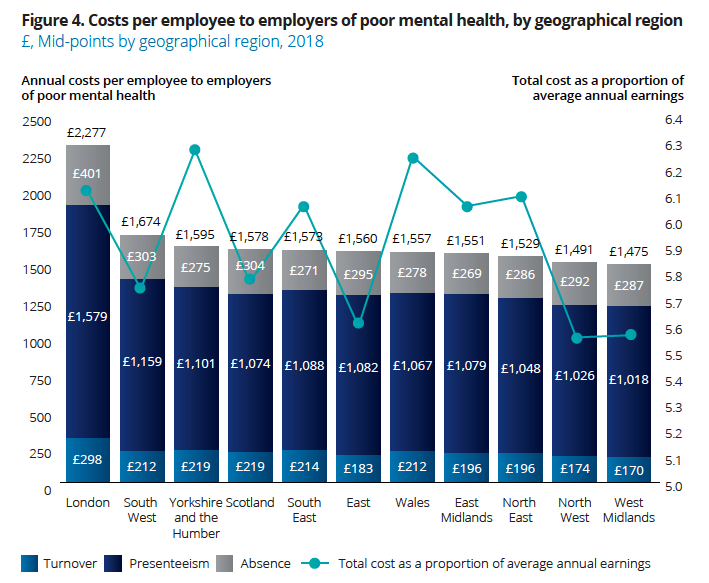 Employee's report impact on their working lives
It's important not to forget the human element to these workplace statistics. While cost and revenue is, of course important, so too is the other part of the lifeblood of any business; its people.
Of those employees who have reported suffering with mental health issues, an overwhelming 89% have said that it affects their working lives.
It goes without saying that employees will do better work when they're in a better frame of mind.
Yet many don't feel comfortable discussing mental health with managers
Despite all of the previous statistics, despite the high number of employees struggling, the huge cost to business, and the heavy toll it takes on those that are suffering, people aren't talking.
One study by the mental health charity Mind found that less than half of people diagnosed with a mental health problem tell their boss about it.
Alongside this, around 1 in 5 employees have taken a day off from work because of stress, but of these employees, 90% have given a different reason for being absent.
Which means businesses are losing employees
The high prevalence of mental health issues and employee's distrust in being able to feel they are fully able to talk about it means that businesses are losing good people.
A survey from Harvard Business Review into mental health in the workplace found that half of Millennials and 75% of employees falling into the Gen Z category had left roles due to mental health issues.
This is in stark comparison to the overall percentage of the survey, which sits at 34%.
What is crucial here is the clear generational shift. As Millennials and Gen Zers begin to make up more and more of the workforce, businesses that fail to take the necessary steps of looking after their workforce may begin to see even higher turnover rates.
The opportunity for businesses with mental health in the workplace
However, this isn't a case of needing to take necessary steps simply to bubble wrap employees from mental health issues.
There is clear, clear evidence that businesses that invest in mental health, particularly preventative measures, will not only reduce the cost of poor mental health, but will actually see a return on investment.
Again coming back to Deloitte's 2019 report, they have found that, on average, businesses who invest in mental health initiatives will see a £5 ROI for every £1 invested. This has risen from £4 when they conducted their research in 2017.
They also found that businesses who invest in a range of measures could see up to £11 returned for every £1 invested.
We've referenced Deloitte's report a lot in this article as it's so comprehensive, and we've put a summary together here.
Mental health in the workplace statistics; what to remember
While the stats more than speak for themselves, they don't show the huge human element that is behind the numbers.
They don't show the stress and agony that many have to go through, and they also don't fully paint the picture of what the upside to investing in mental health is.
But, they do, without any doubt, show that businesses who fail to invest in mental health are falling behind and are losing good people.
You don't always need a big budget to get the mental health in the workplace ball rolling; but starting is better than doing nothing.