Say hey to Marina ?
Hi, I'm Marina.
I recently joined as Sanctus' Head of Marketing.
I wasn't quite sure how to approach this post. Like many others, I find it quite difficult to write about myself. It feels a little conceited and makes me feel very exposed.
Also, I'm an over-thinker.
What's going through my mind right now?
Where do I even start? Who will want to read this? Will it be any 'good'? What should a 'Head of Marketing' sound like? What will people think?
So there it is. That's what I'm feeling. I've shared it. And this post feels lighter and easier already.
Here's a short introduction: I'm a half Italian, half Hungarian marketer who wanted to study sociology but ended up doing business (thanks dad!).
I'm not resentful though. The way I see it, sociology is at the heart of marketing. But this is a conversation for another time.

I first came across Sanctus back in 2018. I was doing some work with a Scottish skills training charity, looking at how we could better support student wellbeing and young people's mental health. I loved what Sanctus were doing to normalize the conversation around mental health – and in particular their focus on supporting employees in the workplace.
'We want to create the safe spaces we never had'.
That really resonated. I spent the majority of my 20s running away from myself and my issues, buying into busyness, feeling anxious, frustrated and unfulfilled. Putting myself under huge amounts of pressure and stress. Equating my self-worth with my output. I burnt out several times and then did it all over again.
I have always felt open talking about my issues with friends – and feel lucky to have many people in my life with whom I can do so now. But it wasn't until I hit the proverbial rock bottom that I sought out professional help – and reaped the benefits for which I am still so thankful for today.
I've reflected often about how different things might have been had I been encouraged earlier on to seek out help, or just had access to better support and guidance. Would I have made the same choices? Or healthier, more fulfilling ones?
Either way, my choices have led me here – and for that I am grateful. As for my journey at Sanctus? It's only week 5, but here are some highlights:
Being able to be truly myself at work from day one – without feeling judgement or pressure to 'perform' or 'conform'. (yes, I did have some new starter jitters, but they faded fast). 
Turning my cat Carlos into the new unofficial Sanctus mascot. 
Feeling instantly a part of a supportive, super-smart & hilarious team who have welcomed me with open arms. And who aren't afraid of a challenge – or to challenge & be challenged. 
Two virtual art classes. It turns out, doing some free-hand drawing or watercolour painting is on par with – or potentially even more relaxing – than a glass of wine. But most importantly, a timely reminder that the true reward is often in the enjoyment of the process, rather than in the output. (I'm no David Hockney, perhaps a little bit Jackon Pollock if you squint real hard). 
Feeling a genuine sense of excitement and pride around what we're building – and the impact it will continue to have on so many. 
Forget funnels and automation, it appears Line of Duty memes are the key to real sales & marketing alignment. 
A deep connection with the Sanctus mission. As someone who has never been a morning person, it turns out this is the trick behind getting out of bed early & easily. 
The belated Christmas card which Sanctus' founder James gave me in week 2: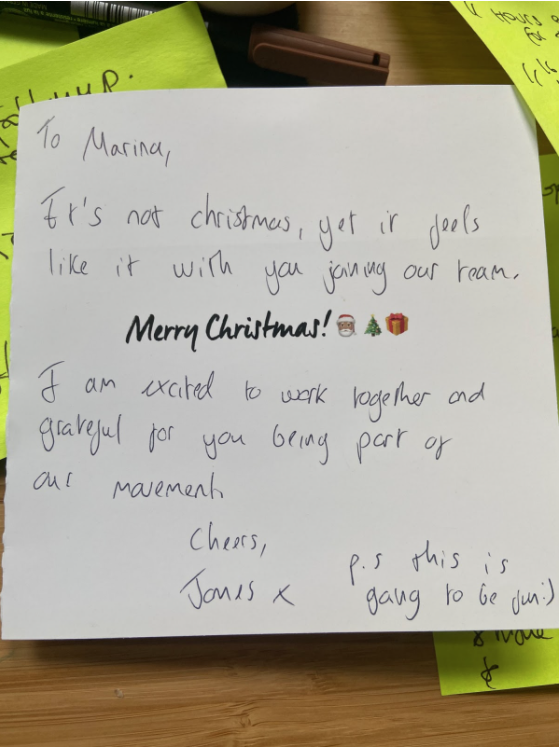 As for what's next and what I'll be focused on in my role? Our marketing plans are still being shaped, but the work we do will be guided by our unwavering focus on providing access to quality mental health support to as many people as possible. And continuing the work we do with a host of amazing partners who, like us, are committed to creating healthier and safer working environments.
If my story resonated or you'd like to chat about all things marketing, cats or mental health, do get in touch.
Marina x